Contests and Conversations
Introducing An Amazing Poem!
My Dream Is For Everyone To Win In Life In A Greater Way is a poignant poem by Author and Speaker Ronald Cooper. It earned the prestigious "Editor's Choice" award from a recognized national and international poetry organization.
Do you desire experiencing increased levels of hope, inspiration, motivation,encouragement, optimism, confidence, or enthusiasm? Studies confirm that when a person experience heightened levels of the aforementioned attributes–a noticeable positive phenomenon happens. This phenomenon will definitely inspire you to a new level of positive feeling, excitement, empowerment, action, achievement, enjoyment, and satisfaction. It is life changing!
Preview portions of this incredible poem now for free. What an amazing offer! Purchase your downloadable suitable for framing and gift giving poem now and start discovering remarkable immediate beneficial results.
For a limited time, buy one downloadable poem for only $1.99 and you will be automatically eligible to win one autographed copy of Ronald's new book, How To Win In Life In A Greater Way, a $11.99 value. Thank you!
Download a sample of the poem here.
Purchase the full poem via PayPal for $1.99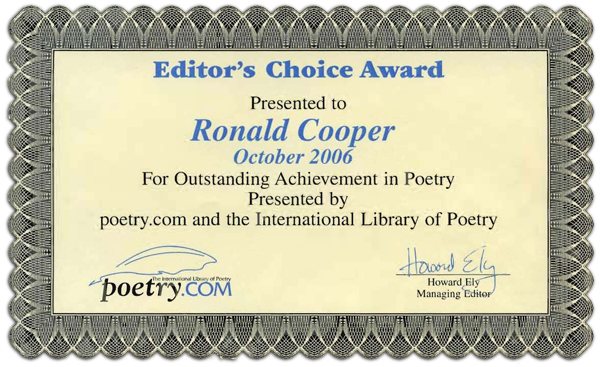 This book is an incredible divinely inspired anointed resource. A simple one-of-a-kind remarkable resource which produces a real heartfelt higher level of genuine hope, inspiration, motivation, and encouragement in anyone's life... READ MORE

"The pages of this book should be read, digested, and demonstrated. This book contains wisdom for purposeful living."

-Dr. G. Calvin McCutchen

"From the first page to the last page, this book inspires, motivates, encourages, and heightens your awareness to live life with a biblical self- image and a sense of urgency and intentionality. I definitely plan to add it to my book club."

-Rev. Altonnette D. Hawkins

"Your ideas are so inspiring and your book very contemplative."

-Eric N. Schafer